Mid-Century · Danish Modern Design · Vintage · Interior · Furniture · Lamps · etc.
Vintage Galore is an online store based in Oeversee (near Flensburg), which started in Berlin in 2012 as a local store for vintage furniture.
"Vintage" means old, used pieces. Mainly Danish "mid-century modern design", or "Danish modern design". So mostly pieces from the 50s, 60s and 70s. Some timeless, some rather nostalgic – but always in a Scandinavian-modernist style. Tastefully selected and high quality restored furniture. Also lamps and other design objects or home accessories. Among them often rare collector's items. I like to breathe new life into things in need of restoration. I understand sustainability as part of my concept.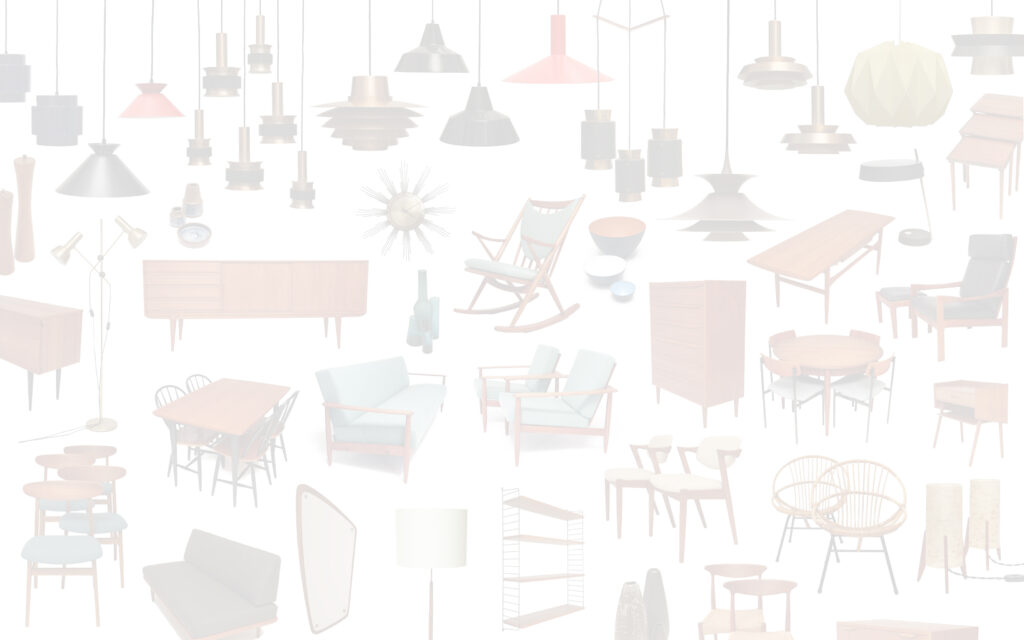 Vintage Galore gift voucher
Perfect if you don't know exactly which item the recipient would choose. Also great as a last-minute gift. The voucher can be downloaded as a PDF and printed out directly after payment in the order confirmation. Therefore free shipping. Each voucher is valid for three years from the date of purchase.
plus shipping and handling
How does this work here?
I ship furniture, lamps and more by DHL and freight forwarding. Self-collection or own commissioning of a freight forwarder are of course also possible. If you are interested in a particular item, a non-binding inspection here in Oeversee is possible. However, only by appointment. Since Vintage Galore is no longer a retail store, but an online store, there are no regular opening hours.
The red dot on the product photos means: sold. The half red dot means: reserved.
News
Whenever I get a bunch of new furniture, lamps etc. in (or there are other news), I inform about it via my newsletter. No worries, I won't spam you. (:
https://vintagegalore.de/newsletter
Alternatively (or additionally) you can follow me on my social media channels:
https://www.facebook.com/vintagegalore.de
https://www.instagram.com/vintagegalorestore/
Buying advice
If you need advice before buying, just contact me. You can also send me photos of your living situation by email.
If you want to sell something:
You can offer me furniture and / or lamps that fit into my concept for purchase. Of course, also in need of restoration.
Interesting are furniture, lamps etc. from the 1950s, 1960s and 1970s. Preferably from Denmark, Norway, Sweden or Finland. Designers that are interesting for me among others: Hans Wegner, Michael Andersen, Arne Vodder, Ole Wanscher, Illum Wikkelsø, Peter Hvidt, Orla Mølgaard Nielsen, Arne Wahl Iversen, Aksel Kjersgaard, Jens Quistgaard, Edvard Kindt-Larsen, Finn Juhl, Grete Jalk, Gunni Omann, H. W. Klein, Johannes Andersen, Kai Kristiansen, Nisse Strinning, Poul Cadovius, Niels O. Møller / Niels Otto Møller, Peter Løvig Nielsen, Svend Age Eriksen, Jørgen Gammelgaard, Poul Hennigsen, Preben Dal, Preben Dahl, Michael Bang, Sigvard Bernadotte, Svend Aage Holm Sørensen, H.P. Hansen, Einar Johansen, Bjørn Engo, Arne Jacobsen, Carl Thore, Jo Hammerborg, Bent Karlby, Louis Weisdorf, Jørgen Gammelgaard, Ilmari Tapiovaara, Alvar Aalto, Hans Agne Jakobsson, Erik Buch / Buck, Gunnar Nielsen-Tibergaard, Tapio Wirkkala, Jørgen Kastholm & Preben Fabricius, Hans Olsen, Ejner Larsen & Aksel Bender Madsen, Børge Mogensen, Kaj Bojesen, Nanna Ditzel, Poul Kjærholm, Henning Wind-Hansen, Niels Koefoed, Tove & Edvard Kindt-Larsen, Kurt Østervig, Bender Madsen, Poul Hundevad, Poul M. Volther, Jørn Utzon, Ib Kofod Larsen, Simon P. Henningsen, Jørgen Bo, Vilhelm Wohlert, Piet Hein, Verner Panton, Torsten Thorup, Claus Bonderup, Michael Bang, Hans Due, Sven (Svend) Middelboe, Th. Harlev, Sophus Frandsen, Ingmar Relling, Ries Antonsen, Lena Larsson, etc.
Interesting manufacturers: Louis Poulsen (Ph 4-3, Ph 5 etc.), Lyfa, Nordisk Solar Compagni, Fog & Mørup, Semi, Rotaflex, Lyskær, Holmegaard, Søholm, Knabstrup, Nils Kähler, Le Klint, Herbert Krenchel / Krenit, Cado, France & Son, France & Daverkosen, Getama, Feldballes Møbelfabrik, String, Fritz Hansen, Niels Eilersen, Asko, Edsy Verken, Aksel Kjersgaard, Niels Bach, Trioh, CFC Silkeborg, Andreas Tuck, Niels Vodder, FDB Møbler, Søborg Møbelfabrik, Johannes Hansen, Gustav Bahus, Glostrup, Sika Møbler, Komfort, Farstrup, Bramin, Vamo, etc.
But also Mid-Century Modern design classics from other countries, such as Harry Bertoia, Charles & Ray Eames / Herman Miller, Knoll International, Walter Knoll can be interesting for me. Also welcome are design classics of German, Austrian or Swiss Mid-Century Modernism, such as Herbert Hirche (Holzäpfle), Wilhelm Renz / Walter Wirtz, Rego / Günter Renkel, Hartmut Lohmeyer / Wilkhahn, Cor, Dieter Waeckerlin (Wäckerlin) / Behr, Wilhelm Knoll / Antimott, Doria, Erco, Staff, Domus, Carl Auböck, etc.
Pieces of furniture, and lighting fixtures that are interesting to me: String shelves / shelving units, shelving systems, sideboard, dresser, set tables, daybed, sofa, couch, armchair, easy chair, lounge chair, dining table, hanging lamp, pendant lamp, ceiling lamp, wall lamp, table lamp, floor lamp, scissor lamp.
They don't have to be designer pieces if they could otherwise fit into my program.
If you have something interesting for me, just send me an email with photos and asking price!
Erik / Vintage Galore